Hello, my five loyal readers. I only caught the second half of Project Runway's reunion special, and that's never, ever the good part, so I'll hold off writing about reality TV for another week. Since I got to college, TV makes me feel dirty.

Speaking of. I was working in the women's center the other day, and after finishing up the newsletter and bringing our Love Your Body Day posters to the copy center, I browsed a couple of feminist blogs and sites. Feministing brought me to this site for some stupid beer. Before you can view their commercials, they will ask you if you're "old enough to play with the big boys". Listen, buddy, I go to college. Girls drink beer, too. This also implies that only people of legal drinking age can look at alcohol commercials, which is pretty hilarious. Any kid with access to a TV already knows that beer is for boys, hard drinks that taste like fruit are for girls and alcohol makes everyone more fun and sexy.

Does anyone remember the very first commercial for Bratz? Their very first tagline (which I'm left to assume was quicky pulled off the air- but how the did it get on in the first place?) was said by two pretty young ladies in unison: "Don't Theorize, Accesorize!" I know that I for one, after overcoming the sheer disbelief, began freaking. the. fuck. out. How did NOBODY in the room when that one was thrown out go "you know, that could be construed as sexist"? Maybe there were no women in the room. Maybe they should make a Bratz playset that comes with a glass ceiling. After all, I've been told Bratz are all about girl power. Girl power through fashion, girl power through diamonds, girl power through buying more shit. Girl power in that Barbie was getting a little too frumpy, what with changing her classic features so she almost looked kind of like a real human being, so Bratz kicked it UP and cornered the market for peddling gender roles and unrealistic standards to extremely young girls.

Anyway, my point being, these beer commercials are so blatantly destructive on their own, and yet, like Bratz's original tagline, they felt the need to point out their own idiocy. For the crimes of swatting a bee, enjoying a trampoline and wiping the grease off one's pizza, the offenders are put to death by a giant can of beer. There seems to be a backlash from the days of the metrosexual (which I've heard more often than ever since I got to school- people still use this word seriously? Why do we need to throw a ridiculous label on a hetero man with a couple of "feminine" qualities?). Ads have always been pretty sexist, but now more than ever I'm noticing attacks on men- you don't like red meat, alcohol and fast cars? You're not a man, prepare to be ostracized.

As if the kick in the balls wasn't enough, then comes the punch in the face, a deep voice making no allusions about the message: "Men Should Act Like Men." So, I had a couple of ideas to expand their already large library of things un-manly. (They are not family friendly, apologies to my main linker BPR.)
Enjoy.




MEN SHOULD ACT LIKE MEN.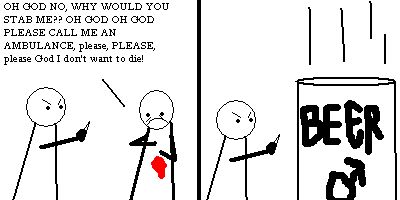 MEN SHOULD ACT LIKE MEN.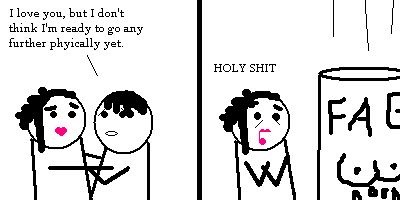 MEN SHOULD ACT LIKE MEN.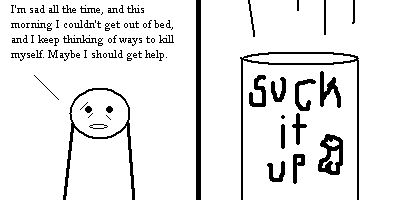 MEN SHOULD ACT LIKE MEN.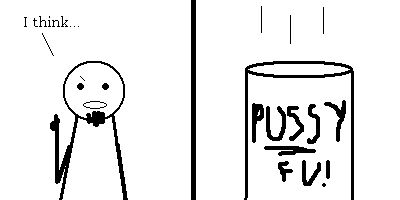 MEN SHOULD ACT LIKE MEN. DRINK. OBEY.