No, not the sex-ed entry. It's coming, forgive. I was too busy going to a party this weekend. What kind of party do nerds that live in the woods go to, you ask? This being a blog dedicated to a reality fashion TV show, I wonder if you have doubts about my self-described hippie tendencies. Let this be but one piece of proof that I and my loved ones are at peace with mother earth, father sky, brother tree and sister beaver.
One of my best friends, let's call him Sam, because that's his name, holds an Annual Sugaring Party. What does a sugaring party entail, you may ask?

Well, first of all, gotta have a sweet band: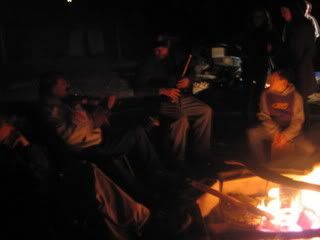 In case you can't see/don't know, those gentlemen are playing a fiddle and a bagpipes. Alright, well, that was actually really cool.

Of course, the reason for the season so to speak was good, wholesome syrup-boiling. Samuel and his family have enough maple trees on their property to collect buckets full of sap and boil it into delicious syrup.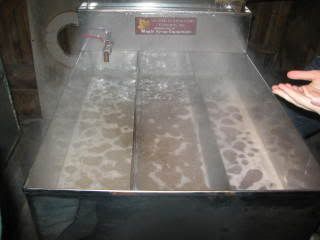 Yummy!

We didn't get to try any syrup yet, as there are a few more steps before it's edible. But, I did eat a spoonful of tree sap out of a plastic trash can. Everyone said it tasted like water with a bit of sugar, and I'm inclined to agree, except attatched to the sugar-water taste was the weird feeling of eating something straight out of a tree.

Hopefully I'll be getting a bottle of the real stuff in a few weeks. Much tastier than sap, and more comfortable than what I've turned to, now that last year's stash ran out: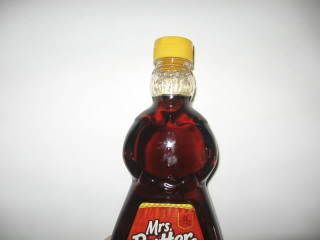 I'm glad I never had this stuff when I was a kid. I was the type to get freaked out by my own bizarre unconfirmed theories. For example, I was long haunted by my own idea that if I put down a drink and walked into another room, witches would poof into my house and try to put potions into it. So, drinking a glass woman's thick, sweet innards? Happy to have dodged that future therapy. All I could think about while I consumed my Eggo was that I was also consuming Mrs. Butterworth's brain matter. But not her mouth.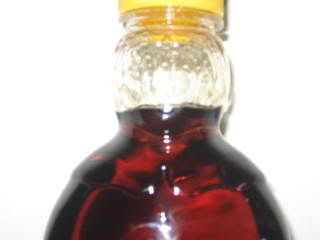 If she was animate, she'd still be screaming.