(Ok, first of all, everyone of proper age needs to go over to Nerve's Sex Advice from Project Runway Stars. If you're into excessive curse words [I am], Jay is absolutely hilarious.
Oh, and do you recall my early excitement that Kara nudged my gaydar? Well, it turned out she was just a hippie, however, hope restored: Zulema is gay and married. A lesbian can be a great designer! She'll just be portrayed as a sexless bitch.)

So, as you might've heard, my dreams came true. In the literal sense, not the Kara-actually-winning sense. I wish someone had bet on my precognition! And now I'm publicly defending her collection- freaking eerie, people!

Listen, putting everything aside but the clothes walking down the Fashion Week runway, here's why I'm fine with Chloe winning:




I actually love these. Chloe had the only pieces in any of the three collections that prompted vocal response. These three evoked oohs, aahs, and I-like-that-ones from my mother and I (we had a cookie-and-finale party, much like Ms. Rice, my mom is the shit).
Of course, a few of them incited groans and what-is-THATs:




But I guess that's the risk factor that Tim Gunn piddles his panties about. Oh well. Even the weirdest looking shit looked really well-made. That's the next, and perhaps the most important point in rationalizing why Chloe won. She knows what she's doing.
Daniel's designs, conversely, spoke to his inexpirience.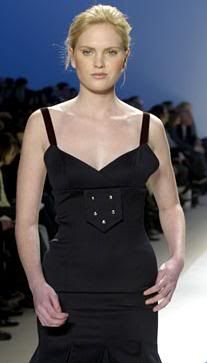 Didn't he see the other Daniel's bust problem in, you know, the very first week? It's like there's a Daniel Bust Syndrome going around, and several of Dan V's dresses caught it. Some of his stuff was good, some of his stuff was ok, but it didn't speak to expertise as Chloe's did. Which isn't really that bad- he's young, he can learn. But, he might seek out a few years real-world expirience before being catapulted to super-fame. Though, he's already 80% there. 80%, get it? Like how much he likes boys? I suck.
Now, Santino. In the final hours, I was almost rooting for Santino, because I realized I didn't have any problem with any piece in his collection. Of course, that's different than being thrilled by it, but a few were admirable:




(Side note: I think it's great that my favorite piece of his collection, just from internet pictures, was the one that Andrae made. Also, the piece in Dan's collection that the judges fawned over? The one Nick made. Does that say anything to anyone?)
So why didn't Santino's non-offensive collection get any praise? Because the judges are fickle, first of all. While he was going for subtle, they saw it as stifled. And, um, they apparently missed this thing:




Safe? Excuse me? Did the judges have their eyes closed when the Glitterbat walked by?
Anyway, like Tim Gunn's blog points out (in the less gentle words of "Project Freakshow"), if Santino won, we'd have a season three full of vulgar nutcases who would slap neon f-bombs on a dress and hope to make it all the way on shock value. Besides, super-flamboyant small town boy won last year. It's politics. This year, it went to professional and poised woman of color (last year's runner up, if you recall).
No, in seriousness now, go Chloe. She's stayed humble all the way through the competition, unlike Santino and Daniel. Sure, she never blew us away totally, but that's asking for a lot. Everything she's done has been of high quality, she's a nice person, and I'm happy for her.

Also, I'm so happy for Grace.


Sure, she's a monstrously tall twig of a woman, but you can't help but love that face. Grace has a unique flare, and I'm have glad that Chloe wins just because that means, Grace wins!

End dissapointingly agreeable entry. See you next season, Project Runway.
News from sex-ed church camp up this weekend.