Well, Friday morning, I still have half a review in works for you- it may not get done tonight, either, your best use of time would be to come by tomorrow. I have a very good reason for my tardiness, though. I was at Rhode Island College, playing bingo for charity.

And sex toys.

The feminist orginization there, in cahoots with V-Day and Athena's Home Novelties, had Sex Toy Bingo. Jen (who you may have noticed is my most-often partner in crime), her boyfriend, her roomate and I all walked away with a prize or two in hand an a new addiction. Not porn or sex toys- we've got a jonesing for more bingo.
The roomate walked away with a hat inscribed with "Everyone Loves a Happy Penis", after a lubricant company, I think. I had a chance at some giant DPing ribbed purple two-foot object-o-fun, but I ended up grabbing these: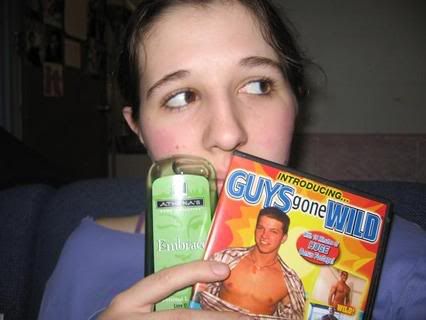 However, Jen wins the gold for most objectifying object to be viewed in a strictly hilarious fashion: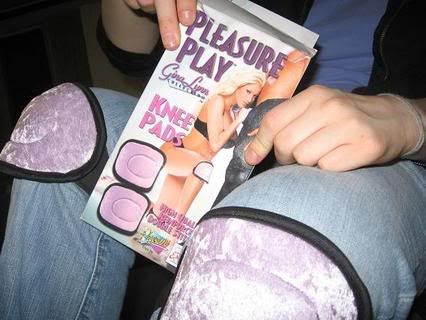 Just so you know, Guys Gone Wild? Creepy, creepy stuff. Avoid the bonus footage. Not one man-on-man kiss, either. We were sorely dissapointed. The most action two men got into was slapping bologna on each other's asses. Girls seem to eat cherries off each other, but guys? WOOOO SLAP HIM WITH SOME MEAT, YO.