No, I did not watch the superbowl. I'm not going to comment on that, silly goose. I'm just making general life commentary, post-the superbowl. Get it?
You may have noticed I have been posting less frequently. It may be due to the fact my two favorites are off Project Runway and I'm feeling disenchanted with the challenges, or it may be due to the fact that I've been waitressing five days a week instead of three (plus a few nights hostessing here or there). Good for my bank account, bad for my blog. So, I've been lazy long enough, I ought to start writing the more general stuff I'll be doing post-PR. Along with reviews of the odd, aesthetically pleasing and culturally subversive (it's good to have a simplified slogan), I'll give the occasional rant on society (catch that bizarre superbowl ad in which women singing about how they're "always willing" lay in a pile and grunt to form a giant cheeseburger? Thank goodness I didn't), stupid gimmick (gosh, how I love Steve, Don't Eat It!) and a hopefully humorous foray into my personal life.

So, why did I not watch the Superbowl? As much as my boy tries to teach me, I just don't get football. I finally have a very basic grip of the rules, but when I try to watch, it's still just a lot of angry running and falling over. I've come to respect the boy's dedication to it, though. He's not one of the guys who care about football once a year as an excuse to get drunk and riled up. He actually studied the goddamned history of the sport. He knows his shit about football like I know my shit about, well, nothing really. His knowledge on American football is a notch above my knowledge on Eddie Izzard sketches, which is pretty darn good. I listen to him talk to his father about it, and I imagine if you could major in football in college, they would either be A students or professors. Or, maybe the impressiveness is just due the fact that, much like fashion, I don't know shit about football.
Would you hold it against me if I continue about the boy? Listen, it's more about his brain. I'm realizing, more and more, that the thing is far healthier than my own. Not that he's a rocket scientist or anything, nor that I'm a vapid shell (though, I do operate a blog), but he just seems to be able to, I don't know, focus. He has these intense interests, which makes some think he's a snob, but I'm theorizing that it's just how his brain works. For instance, cheese. My boyfriend is, you might say, a cheesemonger. He says he's not, because that means you sell cheese, but I think he's at least pushing it's agenda. I could go into specifics, but just imagine it for yourself: your significant other is totally into cheese. No, moreso than you're imagining. Like, you go out on a date, and he demands that after dinner you make a stop at the artisan cheese store down the street, at which he spends upwards of twenty dollars on three bits of cheese, and you rush home to make a cheese plate with it.
That's never happened exactly like that, but it's definitely not unrealistic. He's not violent or anything about his cheese or football, he's just intense. I can't do that. I can't be that interested in something. Maybe for a week or two, I'll manage to convince myself I'm going to finish a zine or turn that old t-shirt into underpants that say "D.A.R.E. to keep kids off drugs" on the bum (I had this idea way before Santino's Auf Wiedersehen panties. They're currently half-sewed, I'll post pictures if I ever finish them). I could never, ever dedicate myself to a hobby like making cheese. Yes, he's making cheese, and he has to turn it daily for, I don't know, a month or so, and then weekly for a while, and then monthly. The whole process takes over six months, and longer if he wants to age it. He's like an old man, and he knows it. He's capable of all kinds of seriousness I can't manage. He can be perfectly silly in bursts, but he has a serious aversion to stupid activities, such as dancing and Halloween. He hasn't dressed up for Halloween since he was ten years old. He also never ate peanut butter and jelly or read Shel Silverstein as a child. You know he never crawled? One day when he was a babe, he just got up and started walking around. Explains a lot, doesn't it?
I realize this has been a lot of words without pictures, particularly considering I mostly write about a TV show, but I think the boy would be against the five of you loyal readers having a picture of his face. You know, this crazy internet, I don't want you drawing nerd glasses and smelly cheese on him.
Well, here's a partially obscured picture of him playing nice with his kitty. Take a break from all this strenuous reading I put you through to make cute noises at a picture of kitty.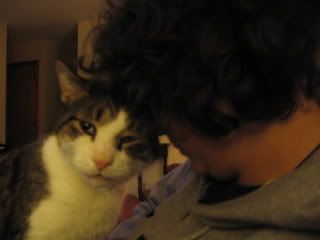 It's a stray that his family adopted- or rather, adopted his family when they moved in. He insists on calling the thing Socks ("boring name for a boring cat"), while I suggested Pretty Eyes, then Stockings, and after spending a night at the house, Loudmouth, Foghorn or Phineas.

Anyway, while I was not watching the superbowl, I bought makeup. Not worth mentioning for a normal person, but I was nearly overwhelmed. I'd been borrowing my mom's for work (hottness = tips, unfortunately), and I decided I ought to get some of my own. If you've never been in a makeup aisle (as I hadn't, except in passing) go there. Try to pick something out. If you're any more clueless than I am, you'll probably get a nosebleed and pass out. It's impossible- I just wanted black eyeliner. Does brand matter? Does length matter? Is this harder or softer? Does that matter? Oh damn, is this a brow pencil or an eye pencil? With or without a sharpener? Automatic? What shade of black?
Luckily, there's always one major deciding factor no matter what I'm buying: what's cheapest? I went over to the cheapy-looking rack that had "50% OFF" plastered all over it. I went for something gimmicky with a funny name, a two-sided pencil called "Through The Storm"- other names included "Endless Love", "Islands in the Stream", and perhaps my favorite, "You Have The Power!". For whatever reason, I felt shame about buying makeup. I made sure no one saw me in the aisle, and I did that useless trick everyone does when they buy embarrassing items. In Chuck Palahniuk's short story Guts, one character buys a carrot to stick up his butt, but decides he ought to get the ingredients for carrot cake as well, so he's not at checkout with a carrot and vasoline. I'm sure you've done it. I know whenever the boy buys condoms, he also grabs a pack of gum. It's stupid, the clerk sees that you're buying diaphrams or adult diapers or whatever anyway, but in the buyer's mind, it makes the purchase look casual. You didn't really need those condoms or anything. You just wandered into a pharmacy with your eyes shut, and when you opened them you were in front of the Family Planning aisle, and you thought, "Well, who knows? I might as well be safe." Then you saw the gum on your way to checkout and said, "Similarly, I may or may not use this gum, but I will buy it in case I get the urge to chew." I'm always afraid that if I ever tried to pull it off with condoms, I'd go overboard and the clerk would start predicting how I'm going to incorporate every item into whatever sex act I'm performing. Here's a tip: be it tampons, Vagasil, or KY Jelly, throw in a cheap-o birthday card so it looks like an awful gag present. Though makeup may be considered significantly less painful to buy than contraceptives or vaginal health products, I was thoroughly embarrassed and bought a bag of candy.
So, anyway, I bought the stuff and came home to find myself alone. I expirimented my little heart out and ended up looking like Queen Hatshepsut. You know, first female Pharoah of Egypt? I pray you're a nerd audience.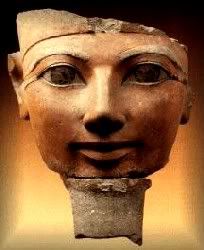 The elongated lashes out the corners and the fake square beard. Yes, I drew a square beard on myself. There's no shame in post-high school dress-up. It's just called "transvestitism", and most of my personal heroes engage in it.

I washed up and settled down by the television, and I meant to watch the superbowl, really, but my mother was home by that point, and somehow we always end up watching bad reality TV on VH1. This time we bonded over two straight hours of season four of America's Next Top Model. I could make all sorts of comments, but Fourfour has it completely covered.
That was followed up by two hours of Inside the Actor's Studio with Liza Minielli. Yes, I am one of those musical theater loving jerks. In the last day I've been downloading songs from her by crazy. Last week, after buying But I'm A Cheerleader, I had a RuPaul spree, so now my "Recently Downloaded" list is Rupaul, Liza Minielli and the Project Runway soundtrack clips. I'm not sure if skipping the superbowl for makeup, models and Liza Minelli makes me a total girl, or at this point, an honorary gay man (much like Kara). Much better than seeing classic clips of Cabaret, of course, was hearing Liza admit her favorite curse was "motherfucking cocksucker".