First off, sorry this is a bit late. Blogger seemed to poop out yesterday.

I found out what the challenge was over at JustJared early on Wednesday. Sorely dissapointed. Seriously- the challenge about inspiration is taking pictures and making something based on one? This sounds like a high school creative writing assignment.
Michael Kors finally got the chance to show he's a designer instead of just a guy in a silly chair. This sparking my interest, I looked up some of Michael Kor's designs today. Some are nice, but largely, it was pretty silly. Shit like this:


Would have him burned at the stake if he were on Project Runway.

Anyway.
The moment we all waited for. In the brilliant voice of Daniel Vosovic: "It's a mother-fucking walkoff!" It seems I'm developing the epedemic-like DanFanism.
Not as dramatic as it was made out to be, just, pretty sad. Zulema causes many tears, taking Nick's muse and shunning Rachael. While she may not be the best walker of the bunch, I think she's looked great in Zulema's designs. I was surprised that they switched, and that was the end of it- I expected all the designers would then be able to switch round in a chain, or Nick would at least be able to choose between Rachael and Shannon. Unfortunate.
As melancholy as Nick was for just about the whole episode, I couldn't help laughing every time I saw those big sunglasses he has. He looked like the gay Beetleborg.


I mean that in the most complimentary way possible. If there is a complimentary way to say that.
While Nick was sad, the girls were pissed.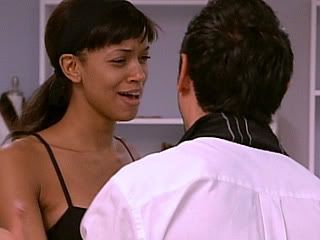 And in a shocking new development, they were allowed to talk! Why is it we never hear from them? I think it was cute that Rachael admitted Nick was her favorite- very good luck to that team. Despite Tim Gunn's, uh, tough love on her "elongated marshmallow" shape and "gumby legs", she worked it this week. Tim, I love you, but average-sized white girls need to be clothed, too.

Tim Gunn also pulled out the big guns (puntastic, eh?), and before anyone even started designing, told the kids that they've basically been pretty sucky. It might seem harsh, but hey, look at the detail and diversity in last year's Banana Republic challenge, and then look at this year's array. He gave each and every designer a good punch in the face. All of it was dead-on, except, I think, for Nick and Andrae's mutual comment: be more ambitious.
Um, what? Have you ever looked at one of Andrae's designs? Nick's ambitious too, but really, Andrae, not ambitious? What the heck else can you call his red mushroom cloud skirt? His tornado-doomy-doom-zorro skating outfit? Or maybe I'm mistaking "ambitious" with "outrageous".

(edit: Right after publishing, I noticed I didn't mention Chloe or her design at all in this update. Her design was actually the nicest she's come up with all season, behind her winning Clothes Off Your Back dress. I think my accidental omission of commentary on her proves Tim's point that she's made great garments, but has been somewhat unremarkable for a while. Or, eh, maybe now that most of the girls are out, she's just been getting less screen time because she's been having less noteworthy interaction.)

Santino made a promise not to go nuts this time, and at first I outright did not believe him. I thought he made a good pick on inspiration, but I definitely felt it had the possibility to move in an absurd direction. Luckily(?), he does not go nuts and use spraypaint as a medium or anything. Instead, he just make a really boring dress, and besides using Austin Scarlett's grammy dress material (which the fans were quicker to pick out than the judges, I think) and impersonating Tim (please see bonus footage for Santino doing Tim doing Nine Inch Nails) was pretty boring this week. I miss the old Santino. The crazy one, who made us laugh and ate people.

So, I made a mistake labeling Santino as Jesus. I think the Jesus of this season (season 1's Jesus being Jay McCarroll, for hopefully obvious reasons) is Daniel Vosovic. His mysterious vibe, his legions of worshipers, his caring nature... this episode, he was revealed to have magical healing powers. With one chat, he convinces Nick Verreos, a sure fashion prophet, to stay faithful through his suffering. You see, that's why Kara was in this week, he blessed her with a stress-relieving kiss during the Banananana episode.

No, actually Kara made it through this elimination because she had an actual concept, and a garment that didn't look like it was sewn by, uh, me. For all the talk about her sewing skills, Zulema just didn't (Timism ahead) make it work.
This is what Project Runway is about- the unpredictablity in each isolated, individual performance. Winning one challenge and losing the next. Farewell, Zulema.


I was worried about Kara, Zulema and Andrae right away- they were probably considered the weaker half of the group this challenge, and their concepts didn't give me any particular confidence. Kara was inspired by signs (not quite chic), Zulema picked out an African dress (only slightly reminiscent of John Wade's disaster), and Andrae drew inspiration from a dirty puddle. Oh, Andrae. You poor, misunderstood soul. He's not really outrageous anymore. Last week he had his dark princess skating outfit, and now with the dirty gutter puddle, Andrae is just, well, weird. Love him? You know it. I'm so glad Jay was on the council for this, he understood the weird kid. He was very close to the win- hopefully this makes no storm clouds between the dynamic duo.
I liked Daniel V's design, but his inspiration was way high-school-art-student.


Flowers. Right. Best photo ever.

Amazing, that we're down to five so quickly. Next week, we'll know one of the final three. It could go any way, and my boy Andrae is so very close.
You know what I realized? Andrae is a perfect drama meter. He displays how shocked we should be. When there's a good surprise, you can hear him above everyone else shouting "YES! OH MY GOSH!" or, "NO WAY!". When there's a bad surprise, he's the one you hear wailing "Oooh noo!". When there's false drama, he lets you know it's stupid with "where the HELL is my chiffon?", and when there's real, genuine, personality-driven drama, you just need to look in his eyes to know how appalled you should be. Jay Mccarroll calling out Santino on using Austin Scarlett's material? Eyes quite wide, mouth open but jaw not dropped. We should be genuinely surprised and mildly shocked.
Zulema calls a walk-off?


Appocalypse face.